Shoreside Express market orders are pre-paid online for curbside pickup. If you have any questions please call
440-951-6448
. Hot orders take approximately 10 minutes and we will do the best to expedite in a timely fashion.
Oyster Recipes
We've got some fantastic oyster recipes for you to try! The Euclid Fish Retail Market carries a large variety of East Coast and West Coast oysters Directions and hours here.
---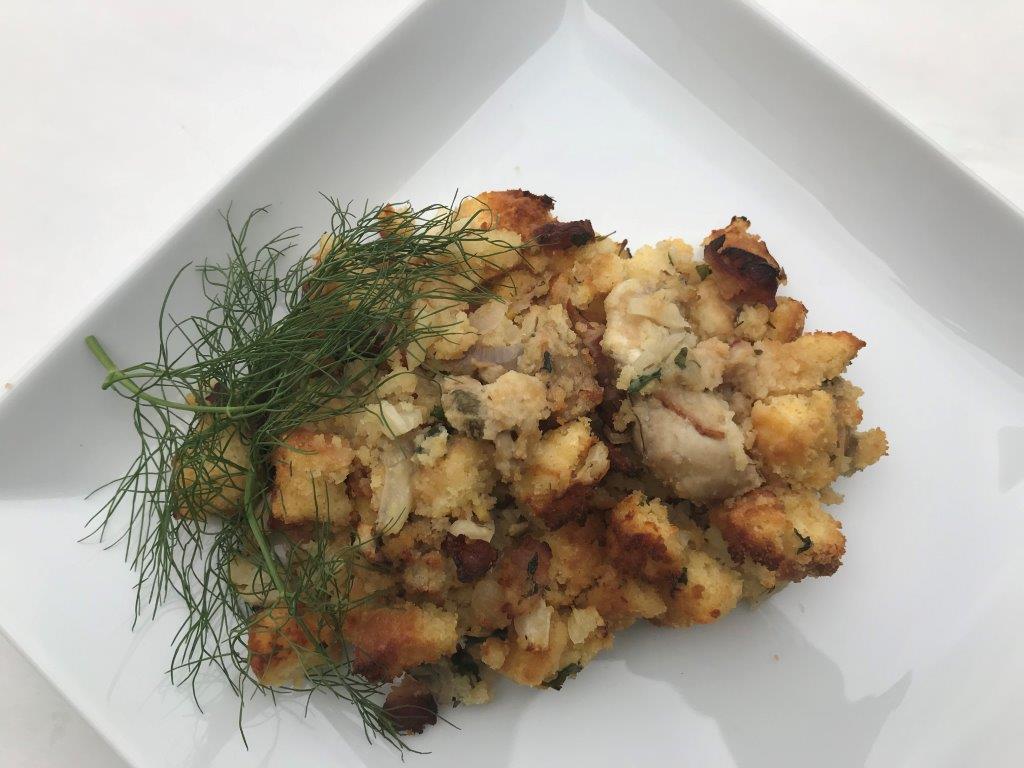 Terrie's Oyster Stuffing
Ingredients
1 lb. shucked oysters - about 40 medium oysters, such as Bluepoints, with 1 cup of the liquor reserved
14oz of white French bread cubed into 1/2" pieces (about 11 cups)
6 slices of bacon, cut crosswise into 1/4" strips
6 shallots, thinly sliced
4 ribs of celery, thinly sliced
1 cup chicken stock
1/4 cup pernod, madeira, or port
1/2 cup chopped parsley
2 Tbsp chopped thyme
2 Tbsp. chopped sage
1/4 tsp. freshly grated nutmeg
1/2 tsp. ground cloves
1/2tsp. Tobasco sauce
6 Tbsp unsalted butter, melted, plus more for greasing the pan
Kosher Salt
Freshly ground black pepper
Directions
Heat the oven to 250F
Arrange bread cubes on a baking sheet in a single layer and bake, stirring occasionally, until dried but not browned, about 15 minutes. Let cool.
Put sliced bacon into 12" skillet and cook over medium-high heat, stirring frequently, until crisp and the fat has rendered, about 10 minutes.
Add 4 Tbsp. of the butter to the bacon and heat. Add the shallots and celery, reduce heat to medium. Cook, stirring occasionally until vegetables are soft, about 10 minutes.
Add oyster liquor, stock, pernod (or medeira or port), parsley, sage, thyme, nutmeg, cloves, tobasco, salt and pepper and bring to a boil over high heat, stirring occasionally, for 5 minutes.
Scrape the mixture into a large bowl and stir in the bread cubes and raw oysters. Set aside for 10 minutes to allow the flavors to come together.
Raise the oven temperature to 411F. Transfer the mixture to a buttered 2qt. oval baking dish and cover with foil. Bake for 30 minutes.
After 30 minutes remove the foild and drizzle with remaining butter. Continue baking until golden brown and crusty, about 15 more minutes. Serve immediately.