About Us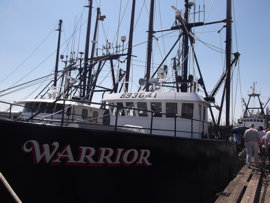 Euclid Fish Company is a fourth generation family foods company which has continuously provided Quality Food Solutions and sustainable products since 1944. We take pride in supplying a wide selection of the healthiest and freshest seafood from around the world, as well as our Center of the Plate Proteins and Specialty products to the finest restaurants, specialty stores, country clubs, hotels and casinos. With four generations, each leaving their mark, Euclid Fish has grown into a broad line distribution company, continually growing with our local, domestic and international partners to provide our customers with the very best and most unique products in the industry. While continuing to expand our wholesale distribution throughout Ohio, Pennsylvania and Kentucky, we maintain a strong presence on Cleveland's East Side offering a wide selection of fresh and frozen seafood, restaurant quality meats and gourmet specialties in our market continuing the traditions of family throughout Northeast Ohio.
We believe that our foundation of success begins at partnering with the very best in the industry. Our team is dedicated to source, inspect, process and deliver the very finest day and night. We process in a state-of-the-art facility mindful to food safety, following HACCP guidelines and working with third party auditors to inspect and perfect our processes. We promise to be socially responsible by following sustainable business practices and fishing policies set by our partners, including Seafood Watch and Fish Choice. With this in mind, we always keep our chefs and customers our top priority through traceable and diligent sourcing, while also educating and informing our employees and customers on current industry information.
Our Vision
To be the trusted source that provides exceptional Center of the Plate solutions to foodservice professionals and their patrons.
Our Mission
Provide exceptional food products by an extraordinary team of dedicated individuals to inspired food professionals that demand excellence.