For those of you who missed it, last week we held a Winter Cooking Demo covering easy seafood how to's and a sampling of some of our favorite winter recipes! We truly had a great time presenting and sampling some of our favorite meals, as well as answering all of our customer's questions. Because of limited space and time, we thought it would be best to share everything that we covered in the demo here with you! (We are also working on a How To Cooking Demo Video as well!)
How to Prepare and Cook Lobster Tail-
In the demo, we went over the different types of lobster tails that you will find in the market including Warm Water Tails, Cold Water Tails and South African Lobster Tails, as well as all of the cooking methods/ Our personal favorite- butterfly and bake! You can find specific cooking instructions here, however if you ever have any questions, please don't hesitate to call our customer service department at 440-951-6448 or ask one of our retail employees when picking up your tails.
Below are the three recipes that we demoed and sampled for all attendees!
Recipe #1: Sole En Papillotte
Serving Size: 1 | Yield: 6 oz. portion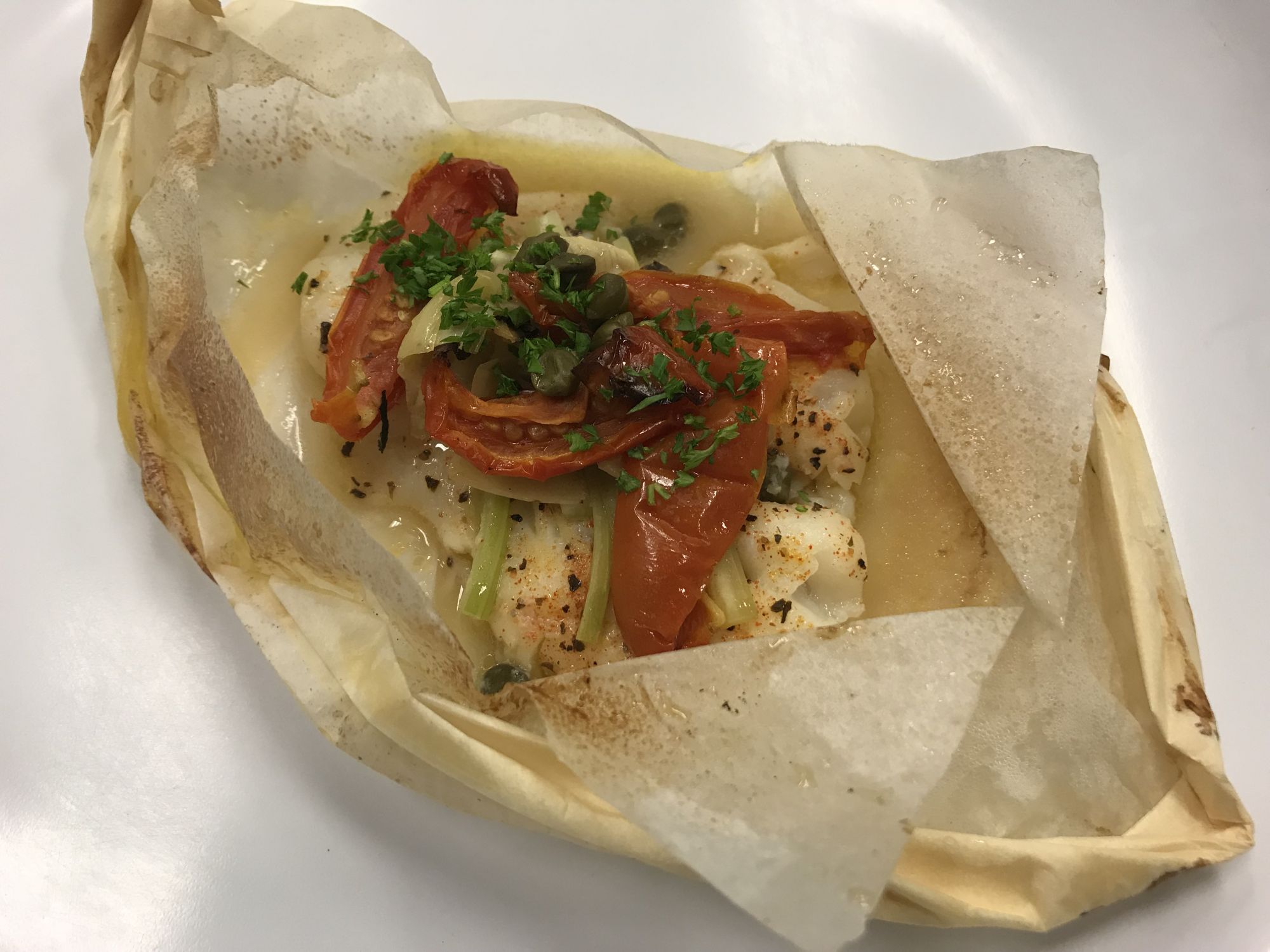 Ingredients:
Parchment Paper
6 oz. Sole Fillet
4 Roasted Tomatoes
2 Artichoke Hearts, Halved
1 tsp. Capers
.25 oz. Celery, Julienne
1 Tbsp. Extra Virgin Olive Oil
1 Tbsp. Stock, Fish or Chicken
Salt and Pepper to taste
Directions:
For the parchment paper: Tear a piece of parchment paper big enough to wrap the 6 oz. piece of sole. Fold the piece of parchment paper in half.
From the crease, cut out a large heart shape.
Lay out the parchment "heart" flat on the counter
Place the sole fillet on one half of the heart
Season the sole with salt and pepper to taste
Top the fish with the julienned celery, roasted tomatoes, artichoke heart halves and capers
Drizzle the olive oil and stock over the vegetables
Fold the empty half of the "heart" parchment paper over the fish
From one end, start to make small folds to seal the parchment. Continue until the entire heart has been sealed
Bake at 425° F for 10 minutes
Using scissors or a sharp knife, open the package. Use caution as steam will vent

Serve the sole hot, and on the parchment paper. You can use chopped parsley or chives for additional flavor, color and a beautiful plate presentation
(For picture by picture instructions, you can find the full recipe here.)
Recipe #2: Mussels Arabbiata
Yield: 2- 8 oz. Portions | Time: 15 minutes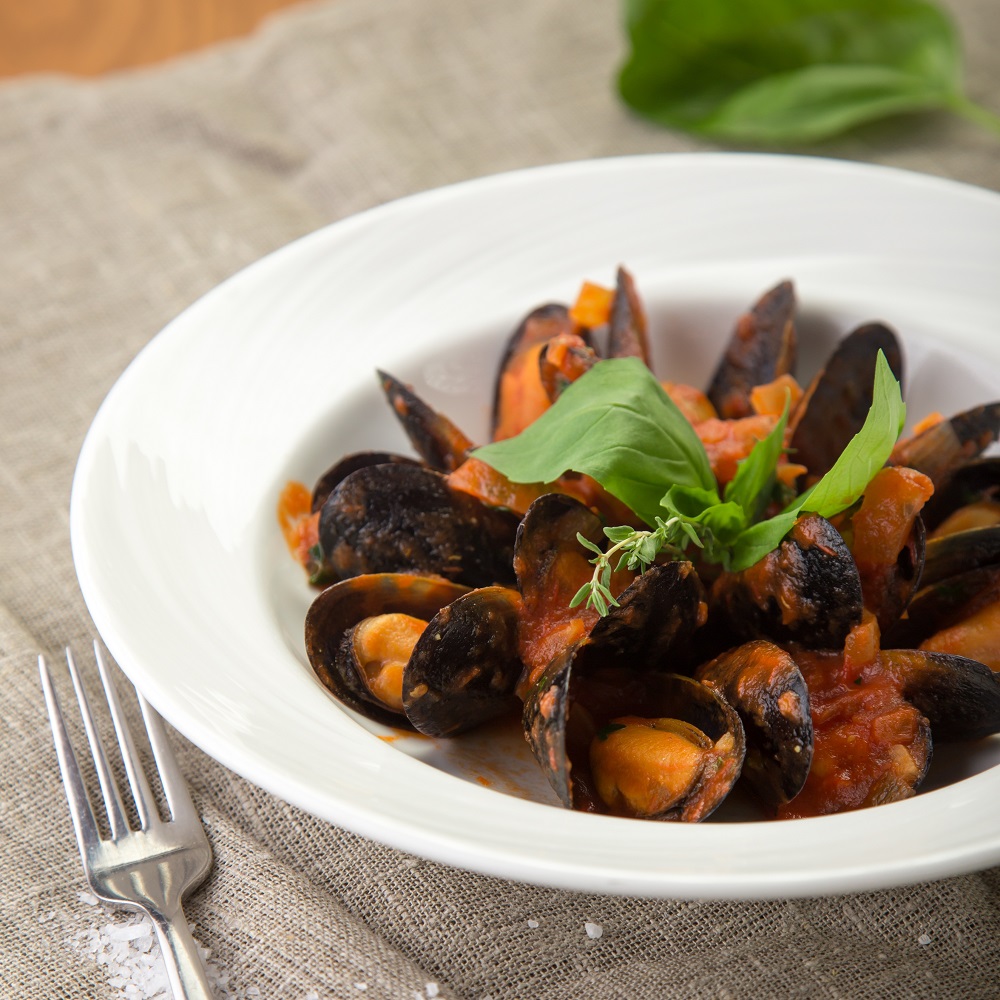 Ingredients:
2 tbsp. olive oil
1 tbsp. garlic, chopped
1 tbsp. shallot, chopped
1 c. dry white wine
28 oz. arabiatta sauce
1 lb. mussels, cleaned
2 tbsp. fresh herbs
Directions:
Heat oil in a heavy bottom pan
Sauté garlic and shallots until tender
Add white wine and reduce by half
Add arabiatta sauce and heat until simmering
Add the mussels and cover
Simmer until the mussels all open up– approximately 5-10 minutes
Add fresh herbs and stir to coat
Transfer to a serving bowl and discard the ones that do not open
Serve with crusty bread for dipping
Recipe #3: Crabmeat Stuffed Shrimp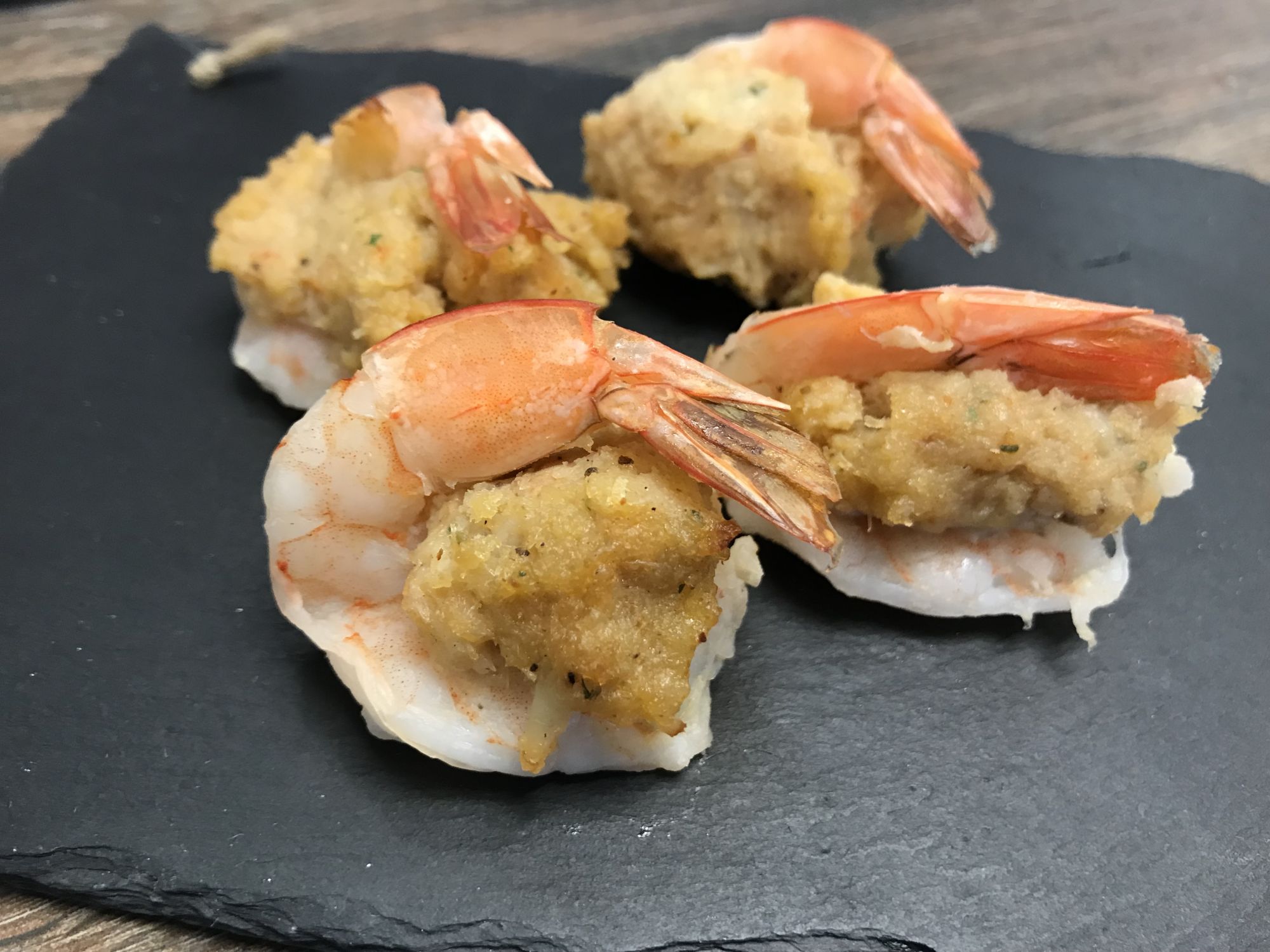 Ingredients:
Crabmeat Stuffing:
1 tbsp. chopped garlic
1 tbsp. chopped shallots
2 eggs
1 oz. melted butter
3/4 c. mayonnaise
3 tbsp. old bay seasoning
1 tbsp. lemon juice
4 dashes tobasco sauce
1 c. panko bread crumbs
1 lb. crab meat (lump or backfin
Crabmeat Stuffed Shrimp:
1 1/2 lb. 16/20 ct. peeled and deveined tail on shrimp, thawed
White wine for drizzling
Butter or olive oil for drizzling
Salt and pepper to taste
Lemons for additional flavor, if desired
Directions:
Combine the first 8 ingredients in a bowl and mix well
Fold in the panko and let rest for 15 minutes so the bread crumbs can absorb the liquid
Fold in the crabmeat and stir until evenly distributed. (You can use this recipe to stuff a variety of different products– shrimp, fresh fish fillets, lobster, etc…)
Preheat the oven to 400° F
Butterfly the shrimp– to do so, cut the top half of the shrimp from head to tail– make sure not to cut all the way through
Turn the shrimp upside down, and spread the meat where the cuts were made so the tail is facing upwards
Place a small amount of stuffing on the inner portion of the shrimp
Fold the tail around and use the pointed part of the tail to skewer itself
Place the shrimp on a buttered baking dish.
Drizzle white wine, butter (or olive oil) over the shrimp
Season with salt and pepper
Bake for approximately 7-10 minutes or until the shrimp is cooked through
Click here for our PDF Print Cooking Instructions
As for our next cooking demo, we are working on scheduling one in the spring, focusing on some of our favorite grilling recipes! We will send out the final details through Facebook and our Email Campaigns once decided.
In the meantime, we hope that you enjoy all of the recipes provided!
The Euclid Fish Company