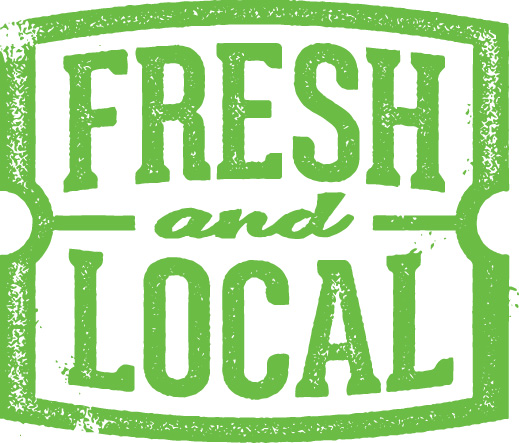 Locally sourced ingredients from localized food system provide great benefits and are part of almost every menu outside of quick and casual service restaurants. But what does it technically mean? HR 2419, Consolidated Farm and Rural Development Act, defines our a local food system as "the product travels no farther than 400 miles from the locality or region in which the final product is marketed and consumed". This act defines what is local but there is nothing that defines what is organic quite yet. Besides the point on how the local farms in the area are regulated for health and safety of their products and how they are approved for sale is not the focus here but what makes something local. There are significant environmental and economical benefits for sourcing local food and we are committed to those benefits.
Local Seafood can be used to our advantage with our location in Northeast Ohio with the natural resource of the Great Lakes. We have Walleye, Perch, Whitefish, White Bass, Smelts, Trout and even some creative chefs are using sheepshead at our purchasing hands all sourced and cut and cleaned for you and your guests under the local umbrella. But seafood can also be out of this realm at the same time. There is local and then there is LOCALE.
Locale would mean the locality of which the product is sourced which is just as important as local products is. It is simply understood and proven that there are different types of areas of the world where fish is caught that is preferred over the other based on tastes and costs and quality. Seafood is a globally exchanged food resource and is driven by locality.
Locale is important to us in the seafood world and to the chefs world because that is where together, we weave our stories and weave our mission as distributor and chef. A few: Georges Bank Swordfish. SKUNA BAY Salmon. Chesapeake Blue Crabs. Oregon Dungeness. Sea of Cortez Blue Shrimp. Florida Key Snapper. Icelandic Char. Otter Point Oysters. Erie Perch. Being true and transparent to the sourcing shows the benefits and these are some examples of locality driven items that are of the finest quality found in our market areas and all which drive a true value driven story that the guest understands. These locales all spark something in the story that your guests can relate to and that we would be more than happy to assist in.
Locally vs locality. That is important for all parties to be mindful and both to be used to our advantages.