Are you hosting a New Year's party at your Cleveland home this year? Searching for a new and unique party theme? Why not transport your guests, who are undoubtedly chilled by the cold weather outside, to the warmer days of the end of summer by hosting a Cleveland clambake? Here are a few tips on how to throw the perfect party.
Invitations
Get your guests in the mood for a Cleveland clambake by starting with the invitations. You can create cute invitations that are red and white checkered on the border, reminiscent of a picnic tablecloth. Dress it up with an image of clams and a lobster. Add your information and be sure to include an RSVP so you can get a head count, which will help to ensure you have enough food.
Decorations
Don't just host a clambake, create the atmosphere! Toss a red and white checkered picnic tablecloth on the table which the food will be presented. Add some beach accessories, such as beach balls, floats or buckets and shovels. Add some decorations to your walls. Get some plastic cups and sturdy picnic plates. Place a communal bucket somewhere convenient for guests to discard the shells. You can go simple with a tin bucket or get one decorated for the occasion. Don't forget the lobster crackers so guests can dig into the shellfish and the lobster bibs so that everyone's clothes stay clean.
The Food
Of course, the centerpiece of your Cleveland clambake is going to be the food. You're obviously going to need the clams. And, of course, any good Cleveland clambake also consists of grilled chicken, sweet potatoes and corn, all of which are going to be cooked with the clams.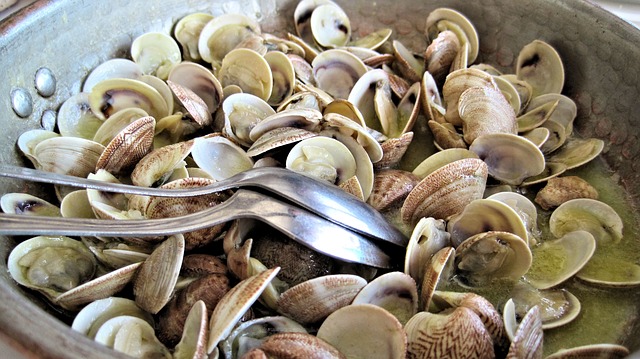 Chances are that you are going to have guests who don't like clams. So, what do you do for them? Fortunately, Euclid Fish Company has the answer. Supply some other shellfish, such as king or snow crab legs. If you want to be a little more decadent, have some lobster on the table as well.
But what about those who, gasp, don't like seafood at all? There are people like that out there, and you can still make sure they don't starve during your party. Euclid Fish Company also has chicken and even steaks that you can serve those guests. And you can fill out the table with vegetable sides such as corn on the cob, sweet potatoes and coleslaw. And, even if your guests are full, make sure to have a supply of cookies ready for dessert.
With a great atmosphere and delicious foods, your guests will be more than ready to ring in the New Year. Contact Euclid Fish Company today to order your Cleveland clambake menu.