You've seen them before. Small, colorful sandwich cookies with different flavored creams inside. They're called macarons, are quickly gaining popularity throughout the United States. While they look simple, these delicious French cookies are quite delicate, and require a skilled hand, making them one of the most coveted desserts available.
What is a Macaron?
You're most likely acquainted with macaroons, a coconut and condensed milk confection. Not to be confused with this sweet treat, a macaron is a completely different pastry item. It is comprised of two meringue based cookies often filled with creams, ganaches and/or jams. They are often small, fitting easily within the palm of your hand and can be eaten in two bites. The cookies are characterized by their smooth top, flat bottoms and "feet." The texture is a slight crunch on the exterior with a soft chew on the inside. There is no one specific macaron flavor. These gourmet foods can be classic flavors such as chocolate or raspberry or more unique like rose water with lychee or black sesame.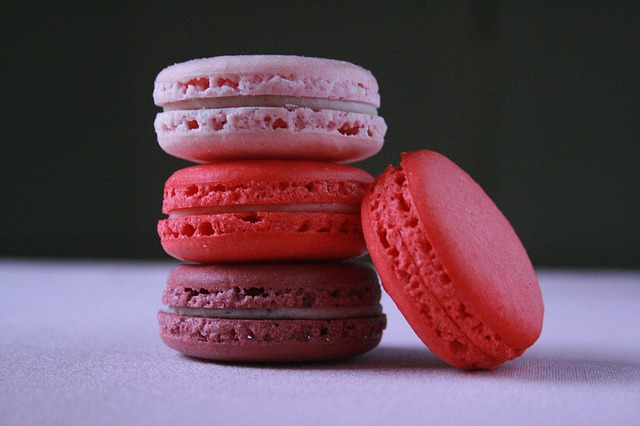 A Bit of Macaron History
Macrons have been around for quite some time. While they are known worldwide as a French treat, they actually originated in Italy. The recipe came to France with the chef who accompanied Catherine de Medici when she married Henry II in 1533. The earliest macarons were just singular meringue cookies, make without filling. It wasn't until the 1900s that Pierre Desfontaines, grandson of Louis Laduree and founder of the famous Laduree pastry shop in Paris, turned them into the filled sandwich cookies we know and love today.
Ingredients
Only the finest ingredients are used in making macarons, and there aren't many. The cookie consists of egg whites, granulated sugar, powdered sugar and almond flour. Fillings are usually buttercream (sugar, egg whites and butter), ganache (chocolate and heavy cream) or fruit jams.
How Are They Made?
Macarons seem simple, but in order to get the perfect shape and texture, they required a very skilled hand, which is another part (aside from the quality ingredients) of what makes these unassuming delicacies gourmet. First, egg whites are whipped with sugar, which is added gradually, to create a French meringue. Next, almond flour and powdered sugar, which must be sifted to avoid lumps, are gently folded in by hand. The mixture must be quickly piped in uniform discs to avoid the meringue from collapsing. The cookies are left out for the tops to dry, which can take anywhere from 10 to 45 minutes or longer, depending upon the atmosphere. They are then baked at a very low temperature. If there is too much humidity in the kitchen, the cookies will fail, as will overmixing or undermixing. When they are cooled, they are filled and pressed together.
Macarons make a great addition to any dessert table. Euclid Fish Company offers a variety of gourmet foods in Cleveland, Ohio, including macarons. Contact us today and allow us to help make your party a little more gourmet.