Euclid Fish is excited to carry one of our newest lines under the Euclid's Finest label… Nduja Salumi!
The Nduja Story: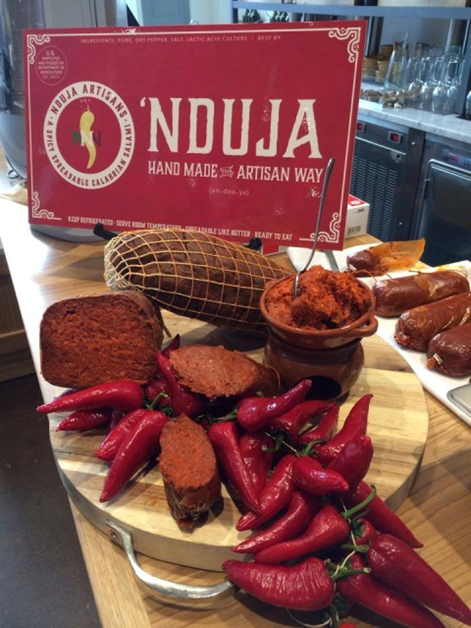 "During the spring of 2010, Agostino took note that Nduja, the typical product of his hometown in Calabria, started to make a big impact in the Chicago food scene. Being dissatisfied with the quality of the product he was finding, he was inspired to create the original taste of his hometown and bring it to the States. When his father came to visit from Italy that winter, they did just that and were elated with what they created.

Agostino has passed on the passion of salumi making to his son, Tony. Together, they are Nduja Artisans. Making salumi has been a tradition in their family for more than five generations. During the summers, they grew their own sweet and spicy peppers, stringed and sundried them for the salumi. Meanwhile, the family pig was being fattened for what would eventually be various salumi including proscuitto, soppressata, dried sausage, pancetta, and of course 'Nduja!

With knowledge accumulated over five generations, it has culminated in a product that tastes just as authentic as Spilinga's, the birthplace of Nduja. They have done so by assembling a master mix of assorted dried peppers, both local and imported, to achieve similar spice, heat, and flavor notes as the famed Calabrian peppers. Their succulent pork is a blend of lean picnic shoulder, fat back, and trim. The final components of their culinary love song to their homeland, includes Mediterranean sea salt and natural lactic acid culture.
Nduja is a cured spicy spreadable salumi originally from Calabria. Njuja continues to produce their salumi, as their family has for five generations with the best quality pork and a nice balance of sweet and spicy calabrian peppers."
ABOUT THE PRODUCT:
All of Nduja's pork products are made with 100% Berkshire Pork, raised on family farms in southern Minnesota. They are never given antibiotics, no growth promotants or hormone and always vegetarian fed. Berkshire pork is prized by chefs worldwide for its rare characteristic marbling which consistently produces a meat with superb tenderness, moisture and flavor.
View our Product Sheet for more information!