Big Fork Bacon Sausage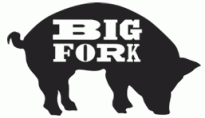 Big Fork is a Chicago-based, family-owned company specializing in handcrafted, artisan sausages using all-natural pork and nitrite-free hardwood smoked bacon. Big Fork products are free of artificial flavors, preservatives, antibiotics, hormones, and gluten. They use hogs and chickens that are vegetarian fed and raised in the Midwest. All varieties of Big Fork sausages are a good source of protein and contain irresistibly robust flavor. Big Fork crams as much bacon as possible into every sausage and add little else. This simplicity lets the bacon flavor shine through so you get BIG flavor without the additives. We currently stock 4 flavors of bacon sausage including; aged cheddar, cracked black pepper, hickory and applewood smoked as well as spicy three pepper.
Benefits of Big Fork Products:
All Natural, Made in Chicago
Minimally Processed, Naturally Encased, Hardwood Smoked
Hogs Raised Outdoors in the Midwest by Small Independent Farmers
Free of: Preservatives, MSG, Nitrates, Nitrites, Hormones, Antibiotics, Artificial Flavors
Chef Created, Hand Crafted, Artisan Sausage
Locally Raised, Locally Made, Locally Sold
20% Less Fat Than Bacon
For more information, check out their website or view our product information sheet!